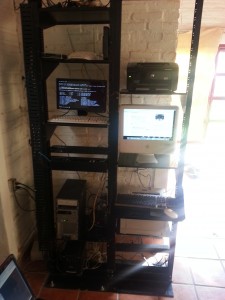 Lagunanet opened up its doors in 1997 in a horse stable in San Antonio Tlayacapan. I  am proud to say we are the ones that started Internet connectivity Lakeside and what a challenge it was, I have learned a lot in those 17 years not only from a technology standpoint but from people as well,  for the most part is has been a great experience and I have had the privilege of serving all kinds of people from different walks of life.
We began offering dial up service with 33,600Kbps modems and later migrated on to wireless technology providing what was then considered high speed. We still currently provide customers fixed wifi connectivity in many areas of lakeside. If there is one thing I love about technology it is change.  I believe it makes us think and improve ourselves, those reluctant to change remain stagnant and personally I believe that is very unhealthy.
Our office in Ajijic will be closing
As of the end of December we will be closing our office in Ajijic, there are many reasons for doing so and a couple of them include the fact that we don't do much retail sales anymore, another reason is that a large part of my customer base pay us electronically using  Paypal, bank transfer and many still currently pay us for 6 or 12 months at a time.
Its time for a virtual office
While many of you may not realize it or not a lot of what of what we do on a daily basis has eliminated the need for a physical location or office, most of us already do business in some kind of electronic form, such as online banking, booking trips on the Internet or having skype or facetime chats with friend and loved ones. this may seem like a big change for some,I feel it will give me the ability to provide a more personalized service to my customers.
The Move
We have been restructuring our servers at the physical site locations making management of our service much more practical,  putting our servers at the base of the towers. Over the past 2 years we have been leasing a space in Texas which hosts our DNS and mail servers, making my life much easier.
How will this affect you?
Most of the move has already taken place,  we have moved our servers on site to Riberas del Pilar, Los Arroyos, Jocotepec and El Chante. The final move will be made around the 15th of December,  equipment located at our current location in Ajijic will be moved to the roof where we have specially made weatherproof boxes where we will place our equipment.
The Ajijic phone number will still be active so you can reach us at that number during normal office hours and I will also provide a cell phone number in case of emergencies or if the need for a service call arises.
Payments
Making payments should be easier than ever, clients have several options, one is direct bank deposit to Bancomer, payment via Paypal and if those are not an option we can always make arrangements to pick up payment. for those living in Riberas we can arrange a payment drop off at Moms deli where we can have your receipt ready.
We look forward to your continuing business.
Best regards
Rod Collins